The management of Chambers is led by our Chambers Director, Vince Plant. The clerks are always willing to advise on the suitability and availability of counsel and to discuss fee structures, packages and budgets. We believe that our continued success is down to our high quality legal expertise and competitive rates, combined with our down-to-earth approach and focus on delivering excellent client service.
According to Legal 500 2019, our "standout clerking team" has "grown considerably under strong leadership" of chambers director Vince Plant, and is praised for being "one of very few chambers who take the time to understand the client and its industry". "Devereux has one of the best clerking teams in the country. They always provide a very personable and friendly service." 'Vince Plant is the chambers director, while Chris Downes is the practice manager. Both are seen as being "cooperative and highly pragmatic when it comes to fees." Downes is ably assisted by James Hudson, who is noted for being "professional and a pleasure to work with."' - Chambers UK 2019
Led by Vince Plant, who is 'good to deal with and responsive', the clerks 'all take a commercial and cost-effective approach to each instruction'. At senior practice manager level, Glenn Billenness is 'works very hard to accommodate requests'. The practice managers are also praised: Chris Downes and Cyrus Biggs are 'very efficient and on the ball', and Laurence Willicombe 'stands out as a brilliant clerk'. - Legal 500 2017. The clerks are valued for being "professional, friendly and always flexible." Further interviewees confirm: "They are very approachable and provide a good service." - Chambers UK 2018
"The clerking team at Devereux is very responsive and flexible in terms of pricing - they are a draw to use barristers at their set." "The clerking team are fantastic. They really get that it is a partnership and understand the client service level you have to deliver. They work very well together and have a very clear billing practice." "personable, affable, efficient, pragmatic and very user-friendly."- Chambers UK 2017
The 'second-to-none' clerking team is 'approachable and responsive', and 'a pleasure to work with'. Chambers director Vince Plant and deputy senior clerk Glenn Billenness 'stand out as brilliant clerks'. At practice manager level, Laurence Willicombe and Chris Downes 'go out of their way to assist their instructing solicitors' - Legal 500 2016
Additional Information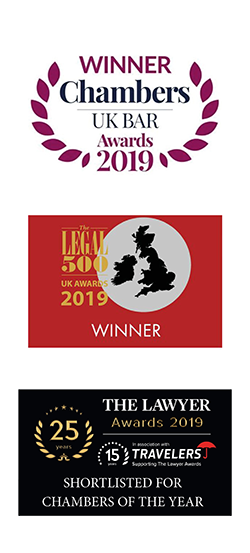 Find A Barrister
Devereux has an "excellent range of counsel available, all of whom you are able to put in front of a very wide range of lay business stakeholders without fear".
Legal 500 2019
Latest from Devereux