Led by Vince Plant, Chambers Director, our team of practice managers, with a combined experience of some 110 years, will advise on the expertise and availability of counsel and discuss the most suitable fee structures for your case. They aim to do this in a speedy and responsive manner, keeping you informed throughout the process.
Our members offer high quality legal expertise and competitive rates, combined with a down-to-earth and collaborative approach.
If you would like to discuss a specific case, arrange a meeting or receive further information about any of our members, areas of expertise or about the way we work in general, please contact our clerks or complete an enquiry form.
Instructing a Barrister

There are three main routes of access to a barrister.

(1) Professional Client Access

The following people may instruct barristers either on behalf of clients or on their own account:

In any matter for all types of work:

Solicitors
Other authorised litigators
Parliamentary agents, patent agents, trademark agents and Notaries
European lawyers registered with the Law Society
Employed barristers and/or European lawyers registered with the Bar Council
Legal Advice Centres designated by the Bar Council

In limited areas of work:

Licensed conveyancers in matters in which they are providing conveyancing services
Foreign lawyers for advice only

(2) Public Access

Members of the public, and commercial and non-commercial organisations, are now able to instruct barristers directly on most civil matters if they accept public access work. To see which barristers at Devereux Chambers accept public access work, please contact the clerks.

(3) Licensed Access

Licensed access is a licensing system whereby organisations or individuals who are suitable to instruct barristers because they have expertise in particular areas of the law, can apply to the Bar Council to be licensed to instruct barristers directly in those areas. The licence can cover advice or representation or both, and permit licensees to instruct barristers either on their own affairs or on behalf of their clients.

For further information about instructing a barrister, see the Bar Council website, from which the information on this page is taken.
Additional Information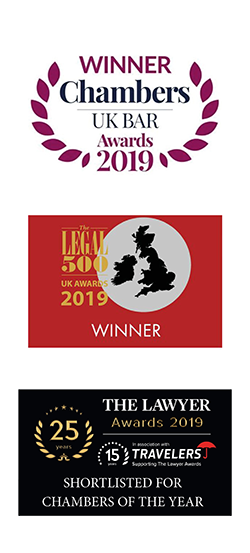 Find A Barrister
"It is a professional set and everyone is a pleasure to deal with." Devereux is "well respected" and "well organised."
Chambers UK Bar 2019
Latest from Devereux