Delivering an outstanding client experience is at the heart of everything we do. Our members are committed to providing superb levels of client service coupled with the highest quality advocacy and advice. You will also receive excellent support from our experienced practice managers and business services team, offering the same level of expertise, professionalism and helpful approach to all our clients. Our strong focus on client service and quality control is recognised and endorsed by the leading legal directories. 
Client Service Principles

We follow a set of Client Service Principles to ensure that our clients receive the highest standards of service. These principles are consistently tested when we request client feedback.  

"The clerks were great. They were on the ball all the time, and went the extra mile to make sure the barrister was always on hand. They have one clerk allocated to a case - it's streamlined."  – Chambers UK 

Client Feedback

We undertake regular client service reviews with clients either in person, by telephone or email. We also request client feedback following seminars and other training events. We always welcome feedback as it enables us to continuously improve, innovate and add value to the client experience.

Our client feedback programme is run by Glenn Billenness, Chambers Director.

Confidentiality

Our clerks are organised into teams with specific responsibilities for different barristers to avoid conflicts of interest or issues of confidentiality. Members have their own dedicated email address as well as direct telephone number.

As a leading set, there are occasions when members of Chambers act for both sides. In these instances we have procedures and processes in place to ensure the strictest confidentiality. For further details, do not hesitate to contact Vince Plant, Chambers Director.

Complaints Procedure

We are committed to providing a first-class service to all our clients, however, should you have cause to complain, the procedure to follow is set out here. Any complaint should be addressed to Andrew Burns KC, Head of Chambers, who will confirm receipt and initiate the process. A lay client may complain directly to Devereux without going through a solicitor or other intermediary.

If the complainant remains dissatisfied following Chambers' written response to the complaint, they may complain to the Legal Ombudsman. A referral to the Legal Ombudsman must be made within specific time periods:

· within six months of our final response to the complaint; and

· within one year of the date the issue occurred; or

· within one year of the date the complainant became aware of the issue.

The Legal Ombudsman can be contacted through www.legalombudsman.org.uk, by email (enquiries@legalombudsman.org.uk), or by telephone (0300 555 0333). Alternative complaints bodies (such as Ombudsman Services, www.ombudsman-services.org) exist which are approved to deal with complaints should both parties wish to use such a scheme. Previous decisions of the Legal Ombudsman can be accessed by clicking here.

Facilities

With a full suite of high-quality physical, hybrid, and fully virtual conferencing facilities, we are able to seamlessly host meetings, conferences, mediations, and arbitrations.  

Our main reception is at Devereux Court, near the Royal Courts of Justice in central London, with easy access to public transport. 

Our facilities include: 

5 air-conditioned conference/breakout rooms 
Hybrid and telephone conferencing facilities 
Arbitration and mediation facilities 
Hybrid seminar room with capacity for 40 in-person delegates and 500 virtual delegates 
Business Services: copying, printing and scanning 

Our facilities are wheelchair accessible. A hearing induction loop has been installed. Should you require additional assistance, for example to arrange parking for clients with limited mobility or to print larger font size documents, please contact our receptionists or the practice managers before your visit to discuss any requirements you may have. If it would be more convenient for Members to travel to clients' homes, please discuss this with our practice managers. 
Additional Information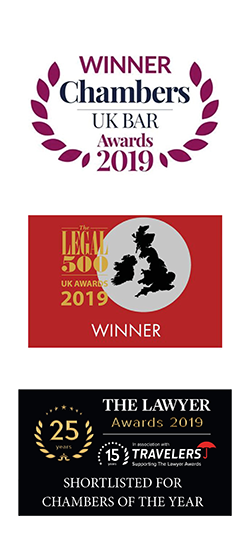 Find A Barrister
"The clerks are exceptionally good and very responsive"
Chambers UK Bar 2020
Latest from Devereux