Delivering an outstanding client experience is at the heart of everything we do. Our members are committed to providing superb levels of client service coupled with the highest quality advocacy and advice. You will also receive excellent support from our experienced practice managers and business services team, offering the same level of expertise, professionalism and helpful approach to all our clients. Our strong focus on client service and quality control is recognised and endorsed by the leading legal directories.
Client Service Principles

We follow a set of Client Service Principles to ensure that our clients receive the highest standards of service. These principles are consistently tested when we request client feedback.

"The clerks were great. They were on the ball all the time, and went the extra mile to make sure the barrister was always on hand. They have one clerk allocated to a case - it's streamlined." – Chambers UK 2017

Client Feedback

We undertake regular client service reviews with clients either in person, by telephone or email. We also request client feedback following seminars and other training events. We always welcome feedback as it enables us to continuously improve and innovate, and add value to the client experience. Our client feedback programme is run by Vince Plant, Chambers Director.

Confidentiality

Our clerks are organised into teams with specific responsibilities for different barristers to avoid conflicts of interest or issues of confidentiality. Members have their own dedicated email address as well as direct telephone number. As a leading set, there are occasions when members of Chambers act for both sides. In these instances we have procedures and processes in place to ensure the strictest confidentiality. For further details, do not hesitate to contact Vince Plant, Chambers Director.

Complaints Procedure

We are committed to providing a first class service to all our clientshowever, should you have cause to complain, the procedure to follow is set out here. Any complaint should be addressed to Timothy Brennan QC, Head of Chambers, who will confirm receipt and initiate the process. A lay client may complain directly to Devereux without going through a solicitor or other intermediary. Within 6 months of the conclusion of that complaints procedure a complainant may take a complaint to the Legal Ombudsman, who can be contacted through http://www.legalombudsman.org.uk, by email (enquiries@legalombudsman.org.uk), or by telephone (0300 555 0333). Alternative complaints bodies (such as Ombudsman Services, www.ombudsmen-services.org) exist which are approved to deal with complaints should both parties wish to use such a scheme.

Facilities

Chambers has been refurbished to an extremely high standard with a focus on creating comfortable surroundings and modern conferencing facilities for our visitors.

Our main reception is at Devereux Court near the Royal Courts of Justice in central London with easy access to public transport.

Our facilities include:

5 conference rooms
1 breakout room
arbitration and mediation facilities
seminar room with seating for 40 with multi-plasma screen presentation capability
2 conference rooms with full multi-party video conferencing facilities and Skype
multi-party telephone conference facilities
wheelchair access, wide access routes and a toilet adapted for disabled use
a hearing induction loop for the hard of hearing
free wifi
catering facilities
air conditioning
business services: copying, printing and scanning


Should you require additional assistance, for example to arrange parking for clients with limited mobility or to print larger font size documents, please contact our receptionists or the practice managers before your visit to discuss any requirements you may have. If it would be more convenient for Members to travel to clients' homes, please discuss this with our practice managers.

Our Business Services department is situated in Queen Elizabeth Building in Middle Temple. Chambers Director Vince Plant, practice managers, marketing, accounts and administrative staff are based here. Chambers Administrator Jacki Muirhead, is responsible for the smooth running of the building and heads up the finance and administrative teams.

Recommendations

The overriding ethos of consistently offering first-class client service to all our clients has been since long recognised by both Chambers & Partners and Legal 500:

Senior practice manager Glenn Billenness is "knowledgeable and always helpful". Lawrence Willicombe "understand[s] the pressures placed on in-house counsel"; Tom Keiller, Cyrus Biggs and Chris Downes "provide an excellent clerking service".

"The clerks are particularly responsive and they're a great help," reports one legal insider. Another comments that "the clerking is excellent, they're very easy to deal with." Assistant practice manager Tom Keiller and practice manager Chris Downes are both singled out for praise by interviewees. - Chambers High Net Worth 2018

'Devereux has a developing reputation for its clients service and is noted for being a "very user-friendly and modern set." This is highlighted by one interviewee who said: "There is nothing stuffy about this chambers; the individuals here are approachable and flexible, and everyone from the clerks to the counsel are really geared up to look after clients." This concern for the client extends to the provision of year-round seminars in chambers for solicitors and a commitment to regularly visiting clients' offices to present talks particular to their requirements. Chambers director Vince Plant is called "incredibly industrious and very client-friendly" whilst Chris Downes and Glenn Billenness are "fantastic clerks." Devereux are probably best summed up by one impressed interviewee who called them "a fine set of chambers with helpful, approachable clerks."' – Client Service at the Bar, Chambers UK 2018

"The clerks are first-rate and they give a great service." "The clerking service is very good. Paperwork is fast and efficient, and the individual clerks are approachable." "The clerks are very easy to work with and do the best they can to accommodate our needs and those of our clients." – Chambers UK 2017

The team has "always been exceptional," according to market sources, who say that the clerks are "very friendly and good at recommending barristers." – Chambers UK 2017

The 'second-to-none' clerking team is 'approachable and responsive', and 'a pleasure to work with'. Chambers director Vince Plant and deputy senior clerk Glenn Billenness 'stand out as brilliant clerks'. At practice manager level, the 'highly pragmatic' Will Jackman has 'excellent client-service skills', and Laurence Willicombe and Chris Downes 'go out of their way to assist their instructing solicitors'. – Legal 500 2016

"They are always helpful. I go back to instruct them time and time again because of their friendly and efficient manner." – Chambers UK 2016

"Really friendly, proactive clerking, headed by Chambers Director Vince Plant. They try that little bit harder and do that little bit better." – Chambers UK 2016

"The clerks are "responsive and will go the extra mile to try to deal with any queries." "They adopt a team approach in terms of handling cases" and they "prioritise and are willing to put themselves out to accommodate the needs of our clients." – Chambers UK 2016

"Members are willing to work alongside their instructing solicitors very effectively, and have all the brains and skills without the arrogance that can go with them." The set also has "very professional clerks who recognise the importance of client service and maintain regular contact with solicitors" – Legal 500 2015

"All the Devereux people we work with are committed to getting the best possible result for clients and they bring with them a wealth of experience." "The clerks are brilliant. There is always someone available and they respond immediately." – Chambers UK 2015

"It is an 'outstanding' set with 'highly approachable' individuals, and clerks who have 'really stepped up the level of service in recent years'." – Legal 500 2014

"They always give great service and they're always willing to listen." – Chambers UK 2014

"A professionally clerked operation and its barristers are prepared to go the extra mile for their clients." – Legal 500 2013

"Devereux Chambers from top to bottom is just a great set and very easy to use; you get responsive clerking, effective time management from counsel, and fantastic work feedback." – Chambers UK 2013

"…from the receptionist to the clerks' room, this is an impressive set which is in tune with the client's needs from the outset." As ever, any set which hopes to be a leading client service provider must have excellent clerking and Devereux is no exception. The "receptive and helpful" clerks are "never anything but accommodating" and left solicitors impressed since they are "interested in wanting to know what we want rather than just content to sell their people to us." This honest and understanding approach really pays off with solicitors, who describe how they trust the clerks and are happy to follow their advice if a first-choice barrister is unavailable." – Chambers UK 2012
Additional Information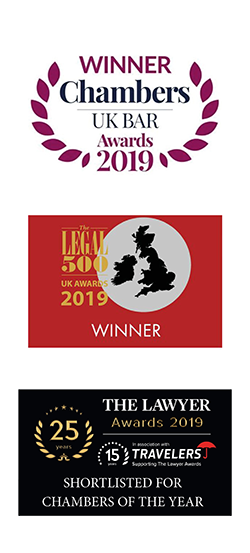 Find A Barrister
Devereux is 'a well-organised set with considerable breadth and depth' and 'expertise at every level'.
Legal 500 2017
Latest from Devereux