Administrative, operational and support functions are provided to members of Devereux Chambers by Devereux Chambers Services Limited ("DCSL"), a private company limited by guarantee incorporated in England and Wales (number 08939089). DCSL's registered office is Devonshire House, 1 Devonshire Street, London, United Kingdom, W1W 5DR and its VAT number is GB 127 1046 46.
Chambers Governance

Chambers is governed by a written constitution. The Head of Chambers is elected for a fixed five year term. The current Head of Chambers is Andrew Burns KC.

Management of Chambers

Our modern attitude to business relationships is reflected in the management of Chambers. Senior Practice Managers, Glenn Billenness and Cyrus Biggs, lead a team of practice managers, responsible for the day to day running of the practices of our barristers. Jacki Muirhead, Director of Operations, leads a team of business services staff who look after the financial and administrative aspects of our business. The management of Chambers is overseen by a Chambers Supervision Committee.

Register of People with Significant Control

Devereux Chambers Services Limited: The company knows or has reasonable cause to believe that there is no registrable person or registrable relevant legal entity in relation to the company (6 April 2016).

(Register of People with Significant Control Regulations 2016; Companies Act 2006, Part 21A).

Insurance

As self-employed barristers, members of Devereux Chambers are required to obtain professional liability insurance from the Bar Mutual Indemnity Fund Limited (the "Bar Mutual") with a minimum level of cover of £500,000. The Bar Mutual website can be found here. The postal address of the Bar Mutual is 90 Fenchurch Street, London EC3M 4ST. Territorial coverage is world‐wide, subject to the terms of cover of the Bar Mutual, which may be downloaded from the Bar Mutual website.
Additional Information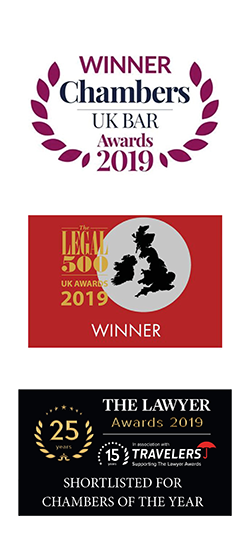 Find A Barrister
Devereux is praised for being 'one of very few chambers who take the time to understand the client and its industry'.
Chambers UK Bar 2019
Latest from Devereux